Natural scientists are now and are daring to study one of the last fields to have eluded them for so long: faith itself. This, of course, threatens faith and philosophy's hold on the definition of man and his place in the world. This is a main reason why Harris, Dawkins, and Dennett are debated so fervently.
The Third Culture in Süddeutsche Zeitung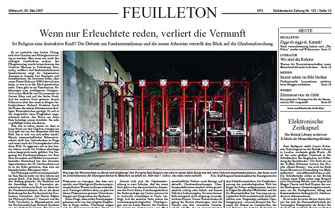 WHEN ONLY THE ENLIGHTENED SPEAK OUT, REASON IS BOUND TO LOSE
Is religion a destructive force? The debate over Fundamentalism and the new Atheists overshadows the scientific research on faith.
By Andrian Kreye, Editor, the Feuilleton, Süddeutsche Zeitung
ANDRIAN KREYE, from 1987 to 2006, was the US cultural correspondent for the Süddeutsche Zeitung (currently the largest German-language daily). At the end of 2006, he moved from New York to Germany, where he took over the Feuilleton section of the newspaper (part Arts & Ideas, part Op-Ed section). He is also an Edge contributor.