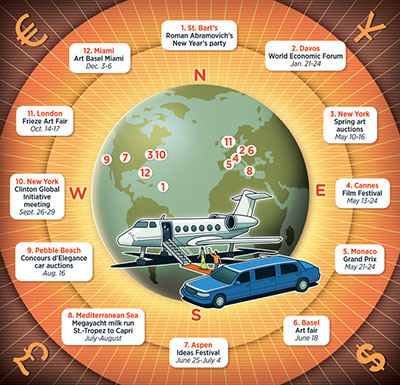 [4]
Jean Pigozzi [5], the venture capitalist and art collector, was lounging by the pool at his villa in Cap d'Antibes early this month, enjoying a rare break from what he calls "the circuit."
After attending the World Economic Forum in Davos in January, he flew to the TED ideas conference in Vancouver, mingling with the likes of Yuri Milner, the tech investor, and Larry Page [6] of Google at the "billionaires' dinner. [7]" Next came the art auctions in New York and the Cannes Film Festival, where he threw a pool party attended by Woody Allen, Uma Thurman and the billionaire Paul Allen [8]. ... 
The new rich have developed their own annual migration pattern. While the wealthy of the past traveled mainly for leisure and climate — the ocean breezes of New England in the summer and the sunny golf greens of Palm Beach in winter — today's rich crisscross the globe almost monthly in search of access, entertainment and intellectual status. Traveling in flocks of private G5 and Citation jets, they have created a new social calendar of economic conferences, entertainment events, exclusive parties and art auctions. And in the separate nation of the rich, citizens no longer speak in terms of countries. They simply say, "We'll see you at Art Basel." ...
In fact, so many rich people have been joining the circuit that Mr. Pigozzi said a new "supercircuit" is emerging, one that has V.I.P. events within the V.I.P. events. At the TED conference, the aptly named "billionaires' dinner [7]" held nearby has become the most sought-after ticket."