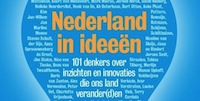 What ideas have changes in the Netherlands, or will in the future? Around 100 thinkers give their views in the recently published 'The Netherlands in Ideas'. Sprout presents a few contributions. 
Netherlands in ideas http://www.mavenpublishing.nl/boeken/nederland-in-ideeen/ [4]is the first book of a series that Maven Publishing will publish each year with around 100 leading Dutch thinkers asking for short and sweet answer to one central question about the interface between science and society. The compilers, virologist Mark G and geneticist Tim van Opijnen, have copied a bit of the art of Edge.org [5] http://www.edge.org [5] , because it was high time for a Dutch counterpart. The question for the first edition: 'What idea, insight or innovation in the Netherlands has changed-or will so in the future?
The question has been answered by scientists, politicians, writers, journalists, and entrepreneurs.