"brilliant ... captivating ... overwhelming"
Books to read (and give) now
SEED PICKS DECEMBER 1, 2009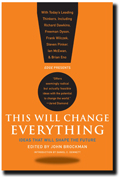 [4]
This Will Change Everything: Ideas That Will Shape the Future
Edited by John Brockman (Harper Perennial)
The latest prophetic collection from John Brockman of Edge.org invites scores of the world's most brilliant thinkers, including Richard Dawkins, Lisa Randall, and Brian Eno, to predict what game-changing events will occur in their lifetimes. Their speculations run the existential gamut, as some predict deliberate nuclear disaster or accidental climatic apocalypse and others foresee eternal life, unlimited prosperity, and boundless happiness. Between such extremes of heaven and hell lie more ambiguous visions: An end to forgetting, the creation of intelligent machines, and cosmetic brain surgery, to name a few. Pouring over these pages is like attending a dinner party where every guest is brilliant and captivating and only wants to speak with you—overwhelming, but an experience to savor.