"Big, deep and ambitious questions....breathtaking in scope. Keep watching The World Question Center." — New Scientist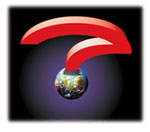 2003
"What are the pressing scientific issues for the nation and the world, and what is your advice on how I can begin to deal with them?" — GWB
The following message is the basis for the 6th Annual Edge Question. I sent individualized emails to the third culture mail list as in the example below, addressed to Steven Pinker, the first participant to respond.
From:"John Brockman"

To: "Steven Pinker" Subject: THE EDGE ANNUAL QUESTION — 2003
Date: Fri, 29 Nov 2002
X-Priority: 3 (Normal)
Importance: Normal

Steve,

This just in from Washington...
From: "George W. Bush"

To: "John Brockman" 

Subject: Science Advisor
Date: Thu, 21 Nov 2002

Dear John,

I appreciate your taking the time to recommend the appointment of Steven Pinker to be my next science advisor and I am pleased to hear of his interest in the position.

I am impressed with the resume of Dr. Pinker which you sent earlier. Could you please ask him to prepare a memo which answers the following question:

"What are the pressing scientific issues for the nation and the world, and what is your advice on how I can begin to deal with them?"

In addition to obvious issues that have dominated the headlines during my first two years in office, I would hope to hear about less obvious scientific issues as well.

I need the memo by the end of December.

Thank you for your help.

Sincerely,

GWB
I wish the above was really an email from President Bush. It is not. It's the set-up for this year's Edge Annual Question — 2003, and because this event receives wide attention from the scientific community and the global press, the responses it evokes just might have the same effect as a memo to the President....that is, if you stick to science and to those scientific areas where you have expertise.
I am asking members of the Edge community to take this project seriously as a public service, to work together to create a document that can be widely disseminated to begin a public discussion about the important scientific issues before us.
Address your memo to the President and very briefly add your credentials (as in the example below). I will post the responses as they come in. Please email your response to me on or before January 1, 2003 for publication the week of January 6th.
I look forward to hearing from you.
Best,
JB
Happy New Year! 
John Brockman
Publisher & Editor
January 6, 2003
p.s. A selection of the responses below were excerpted by The New York Times Op-Ed Page on Saturday, January 4, 2003.

The Engine of Prosperity
Academics Demand a New Science Policy from Bush
by Andrian Kreye
January 14, 2003
Because the last decade brought forth not only scientific successes, but also a new scientific culture, the struggle for the future no longer takes place in privileged circles, but on the public stage...The worldview with the greatest profile in this regard is the "third culture," because it attempts to find scientific answers to the most important questions facing humanity. New York literary agent John Brockman coined the term...and conducts its most important debating club on his internet platform, Edge (http://www.edge.org).
---
Ideas — Criticism — Debate
January 6, 2003
Essays and Opinion (Lead item)
If you had the President's ear, what would you advise him was the most urgent scientific issue the country faces? Energy? Stem-cell research? Bioterror? Science teaching?... more»
---


Posted by timothy on Monday January 06, @04:15AM
from the what-would-sauron-do dept.
murky.waters writes "The responses to this year's Edge.org question have been published; basically, people were asked to imagine they were nominated as White House science adviser and the President asked them what are some important issues in science and what we should do about them. There are 84 responses, ranging in topic from advanced nanotechnology to the psychology of foreign cultures, and lots of ideas regarding science, technology, politics, and education. The responses were written by academics (e.g. Roger Schank, Marvin Minsky), journalists (Kevin Kelly), Nobel Laureates (Eric Kandel), and others (Alan Alda). Some of responses are politically loaded but the majority has either a more specialised proposal, or general remarks about our world. Many are absolutely fascinating: funny, insightful, interesting, hell even informative. ... One of the most public supporters of the Singularity 'religion', Ray Kurzweil, is a regular at Edge, and currently discussed issues range from said transhumanism to early-universe theories, and many other kinds of exciting and novel science." ( Read More...)
---


January 4, 2003
t the end of every year, John Brockman, a literary agent and the publisher of Edge.org, a Web site devoted to science, poses a question to leading scientists, writers and futurists. In 2002, he asked respondents to imagine that they had been nominated as White House science adviser and that President Bush had sought their answer to "What are the pressing scientific issues for the nation and the world, and what is your advice on how I can begin to deal with them?" Here are excerpts of some of the responses.
Mapping the Planet • Professor PlayStation • Little Geniuses • Think Small • Science Without Secrets • Fending Off the Big One • Intellectual Globalization • Cassandras of the Labs • Really Popular Science
[Click here for The New York Times Op-Ed page—free registration required]
---

SCIENCE JOURNAL
By SHARON BEGLEY
December 27, 2002
 
Dear W: Scientists Offer
President Advice on Policy
DEAR READER,
Congratulations! President George W. Bush is considering asking you to serve as his science adviser. He asks that you write him a memo addressing, "What are the pressing scientific issues for the nation and the world, and what is your advice on how I can begin to deal with them?"
So begins this year's online question from Edge, an e-salon of leading scientists and members of the "Third Culture" (in answer to C.P. Snow's scientists vs. humanists)...
This year—with smallpox vaccination, bioterror, stem-cell research, climate change, energy policy and missile defense dominating news—the annual question eschews intellectual posturing and gets down to practicalities...
...You can improve your own science education at www.edge.org, where the Edge memos will be available January 6.
[Click here for article—subscription required]